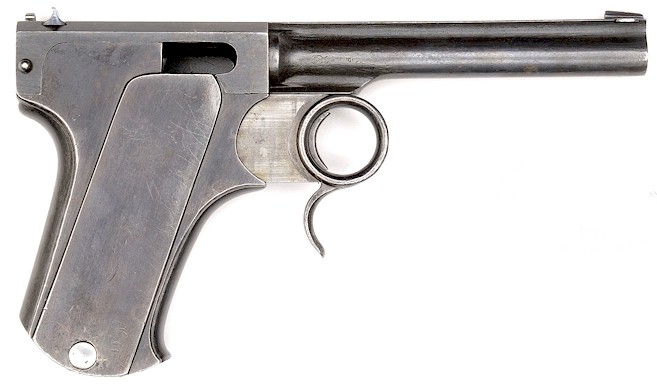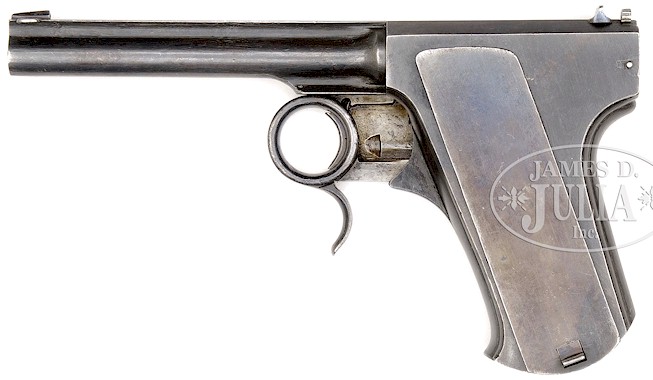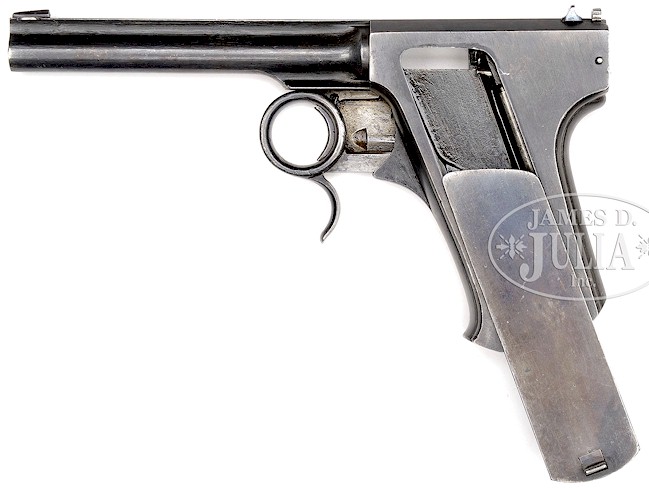 Experimental Francotte repeating pistol
Sold in auction (March 2014) for $10,350.00
SN NSN. Caliber 7.65mm. Unique Francotte manual repeating pistol prototype with a ribbed 5" bbl having a drift adjustable front and rear sight. Belgian Leige proof markings are on the right side of the bbl. This all-metal pistol is loaded by depressing a button on the lower portion of the left grip, allowing it to slide down the frame, locking in place, to expose the loading area. Gentle pressure for repositioning. The small serrated lever behind the rear sight is a safety; rotating it to the left blocks the trigger bar. Clearly a toolroom experimental prototype, rife with tool marks and hand filing. PROVENANCE: Collection of Dr. Geoffrey Sturgess, ex Visser Collection. CONDITION: At least 90% original blue with fine freckling on the barrel and minor thinning where handled. Comparable condition fire blue front and rear sight. Heat tempered colors on the flat metal grips are commensurately faded. Strong trigger bar spring though sear engagement is somewhat erratic, likely due to gummed internals. Dark bore with shallow rifling and considerable corrosion. An extremely rare Francotte pistol prototype, the only one known to this cataloger.